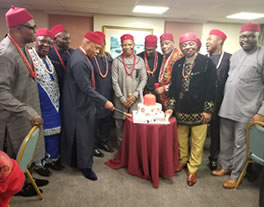 The Igbo Council of Traditional Title Holders USA, Inc., is a cultural and traditional non-profit organization that comprises holders of recognized Igbo traditional titles (Chief, Nze and Ozo) conferred by the Traditional Rulers (Eze) of Igbo land in accordance with Igbo culture and customs (Omenala)
Under normal circumstances, these titles are earned by their recipients or holders through act of benevolence and community service. The holders of these traditional titles are considered as good ambassadors to the various communities they represent. They are the custodians of Igbo culture and heritage.
The large settlement of the Igbo in a particular area, especially, outside the Igbo land makes it imperative for Igbo title holders to come together as a unified body to ensure the efficacy and propagation of Igbo culture and tradition.
Sadly, the confidence, respect and responsibilities associated with this historic institution of Igbo land are rapidly declining and eventually reduced to the lowest ebb; hence the need to form a unified body tasked with the responsibility of resurrecting and injecting sanity, once again, into this great enviable institution.
Founding History
The Igbo Council of Traditional Title Holders USA, Inc. was founded on April 15, 2011 at the residence of Chief/Engr. H.U. Nwachukwu. In attendance were Chief H.U. Nwachukwu, Chief/Dr. Sam Okereke, Chief/Dr. Manny Onyekwere, Chief Charles Egbe, Chief A.C. Oguamanam, and Mazi Ephraim Oduche (Moderator).
After some follow-up meetings, it was officially registered as a legal entity with the Charter division of the State of Maryland Department of Assessments and Taxation on July 21, 2011.