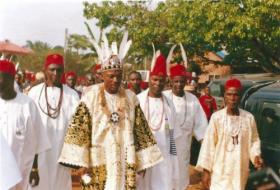 Igbo Nze na Ozos Igbo Cultural Preservation in Baltimore August 5th-7th, 2016. The upcoming ICOTTH-USA igbo Language Festival holding in Baltimore Maryland USA Agust 5-7th 2016 has received a major boost. In a telephone conversation between Okechukwu P. Oranika, and the Chairman Chief [ISI NZE] Benson Chinedu Nwogwugwu an agreement was reached that the South African based Igbo Diaspora Organization "NZE NA OZO NDI IGBO SOUTHERN AFRICA" will be joining in a strategic sponsorship partnership for the coming Baltimore festival.
This is a major step forward in recognition of the goals and implications of the festival focusing on Igbo Language and Culture. Nze Na Ozo Ndi Igbo Southern Africa is a powerhouse Igbo Organization just like ICOTTH-USA on support of preservation of Igbo language and culture for the benefit and enjoyment of coming Igbo generations both at home and in the Diaspora.
Beautiful Igbo Custome Back in Fashion
The Chairman of the Nze Na Ozo group assured Okechukwu Oranika that their over 50 members are fully in support of this festival both morally and in financial terms, and that many will be coming to Baltimore this coming August 5-7 for this noble event. In a letter from Nze Chucks Okoye Eze Ezinwanne na Igboukwu the Secretary General of the group he also informed us that the entire organization is solidly behind their Chairman on this. Many of our brethren particularly our blessed Igbo women are contacting us to ask what they can do to help us in spreading the word about this great initiative. We will publish their names and regions they will represent soon
ICOTT USA Igbo Language Preservation and Iri Ji Festival is a joint Partnership project between ICOTTH USA and Africa Business World.
Date of Event: August 5-7th
Venue: Coppin State University
Baltimore Maryland
Written by Okechukwu P. Oranika (Festival Event Coordinator)
For Contacts and  Sponsorship information please contact
Chief Stanley Onyedum, ICOTTH-USA President (443-983-3558)
Chief Hycinth Nwachukwu ICOTTH USA Founder (410-402-3934)
Chief Laur Nnamdi Onyekwere,  ICOTTH-USA Chair, Festival Planning Committee (410-241-1360)
Chief Alex Ike Okeke, ICOTTH-USA Public Relations Director (443-845-0452)
Prof. Okechukwu P. Oranika, CEO, Africa Business World/Festival Event Coordinator) (770-401-5008)
Ekwu e n'olu bekee ekwu e N'olu Igbo
Ndibeanyi  Udo diri unu n'ile, obum mu bu Mazi Okechukwu Oranika na ewetara unu nile ozi nke a.  Obi di m uto nke ukwu ikoro unu n'ile na nnukwu emume nke anyi na akwodo iji were n'akwado asusu anyi bu Igbo nke na abia na obodo Baltimore na Maryland USA na aga n'ihu nke oma. Nnukwu ihe oma mere na nkwado anyi na akwado maka emume nke a. Ndi otu  ana akpo "NZE NA OZO NDI IGBO SOUTHERN AFRICA" bukwa otu Ndi Igbo  echiri echichi no na South Africa gwara anyi na ha nuru make ememe nke anyi na akwado maka ibulite asusu na omenala anyi elu.
Onye isu ha bu Chief Nze Benson Chinedu Nwogwugwu kporo m na igwe eji ekwu okwu ana akpo "phone " we si m na obi di ha uto nke ukwu make ememe nke anyi na akwadobe na onwa August ise rue isaa na obodo Baltimore no na Mariland USA na afo 2016. Okwuru si na otutu ndi otu ha ga abia na Baltimore maka emume nke a. Okwukwara na ha ga enye kwa aka tinye ego ka ewee kwadoo emume anke nke ukwu. Ndi be any unu ga ama na ihe oma ndi a siri na ha ga eme bu ihe Ndi Igbo na akpo ane ekwu ekwu ana eme eme.
Biko nu nyere anyi aka were kene ndi Igbo no na South Africa ka Chkwu n'onyere ha maka ihe ome ha na emere ndi Igbo nile. Nze Chucks Okoye Eze Ezinwanne na Igboukwu bu onye ode akwukwo ha ( Secretary General) nke ha zitekwara m ozi si na ihe onye isi ha kwuru bu ebe ha n'ile no. Ndi be anyi emume nke ga adikwa egwu. Otutu umu oma Igbo kasi na umu ada oma Ndigbo na agwa m na ha ga eweputa onwe ha were nyere anyi aka n'ikwado maka ememu nkea ofuma.
Ndibeanyi ogwu nu ka onu ha m. Biko noru nu na udo ka Chukwu huru Igbo n'anya gozie unu nile tata na mgbe ebighi ebi
Obu m Mazi Okechukwu Oranika  dere ozi nke a