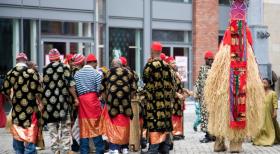 Did you know there are many new resources springing up on the internet for writing and speaking Igbo language? One of these apps is the "App Speak and Write Igbo language. There are also many websites where you can learn how to speak and write in Igbo Language. We will be bringing you periodic updates on these important developments and efforts towards the preservation and propagation of Igbo language and Culture. One of these websites is The Igbo Network http://ilc.igbonet.com/lesson01/. Since the publication of ICOTTH USA Igbo Language Preservation Festival and Iri Ji Festival coming up in Baltimore, August 5-7th, many Igbo Language schools and establishments around the world are excited to be a part of this new effort to increase both writing and speaking in Igbo Language as a daily routine. In fact we have received overwhelming support from Igbos across the world that supports this new initiative.
Igbo Texting is The Next Big Thing
Many more people are beginning to send text messages in Igbo. This strategy is very efficient because it allows many more people to get used to holding conversations in Igbo language. I was delighted to know that one of the Igbo Language Schools in the United States by name PILA an acronym which stands for Progressive Igbo Leaders Association is already adopting Igbo language texting between the teachers and the young Igbo language students most born in the United States.
Model Mrs Kanayo Ntukogu Founder & Coordinator Igbo School & Cultural Center told me that her students are happy learning, speaking and texting in Igbo. Model Ntukogu has pledged to be a part of the planning and execution of the ICOTTH-USA Igbo Language Preservation Cultural Festival coming up in August 5-7th at Coppin State University in Maryland. Many Igbos are interested in this new noble Igbo Language initiative. The publication of the Igbo Language Preservation festival announcement generated hundreds of positive responses across the world. The good news is that majority of the responses were written out in Igbo, what a difference this festival would make, we will be publishing some of these responses at some point in the future.
The Festival in Baltimore is a partnership project between ICOTTH USA and Africa Business World. ICOTTH USA is dedicated to the preservation and propagation of Igbo language and Culture. The president of ICOTTH, Chief Stanley Onyedum along with his predecessor Chief Hyacinth Nwachukwu ICOTTH USA President Emeritus are both dedicated leaders very passionate and committed to the preservation of Igbo  language and Cultural values. The idea for this worldwide festival was nurtured during the Presidency of Chief  Hyacinth Nwachukwu following conversation with Prof. Okechukwu P. Oranika leading to partnership arrangement with Africa Business World.  We invite all Igbo Language schools and establishment across the world to join this effort. The festival would be conducted fully in Igbo, although every effort would be made to have English language translation as well.
We have embarked on this noble project to draw the attention of Igbos to the need of conducting their daily communications in Igbo when such conversation is between two Igbo language speakers. We should always remember the prediction of UNESCO that Igbo language may become another dinosaur in the year 2025, we will prove UNESCO wrong about that prediction by joining hands to do the right thing. Igbos generally have this unfortunate inclination of speaking in English rather than in Igbo. Many of us are guilty of this habit. Nobody will change this status quo but us, and we cannot charge anyone of marginalizing us on this particular matter. This issue is near and dear all of us , and should also be for you as well. Remember when someone speaks Igbo to you respond in Igbo as well.
Written by Okecukwu P. Oranika
Ndi Igbo siri ana ekwu ekwu ana eme eme
Na olu asusu Igbo
Ndi be anyi ndewo nu. Obi di m uto iwetara unu nile ozi nke a maka ihe oma na eme maka ikwado omenala nke anyi na akwadobe na onwa August na ubochi ise ruo ubovhi asaa na afo 2016 na obodo Baltimore nke di na Maryland nke dikw na America. Obi dim uto na etu unu nile siri nabata ozi nkem ziri n'oge gara aga maka ihe gbasara asusu Igbo. Obi di onye obuna uto maka elo anyi na atu maka ememe nke anyi na akwado. Ozi nile anyi natara na aka unu nile juru anyi  afo nke ukwu. Ozi nke taa bu ka anyi gwa unu nile na onwere software emeputara ohuru maka iji nye aka na isu ma obu ide asusu Igbo na akwukwo. Otutu ndi madu no na obodo di iche na iche na aru nnukwu oru na ihe kgasara Ikwado assusu Igbo ka ona aga niru. Ndi ana akpo "Igbo Network" na arukwu nnukwu oru iji na enye aka maka imu asusu Igbo ma obu ide kwa ya ede na akwukwo. Onye choro imu asuso Igbo gaba na "website" ha bu (http://ilc.igbonet.com/lesson01/" ka ha muta etu esi agu ma obu ede asusu igbo n'akwukwo
Ojukwara anyi n'ile afo imata n'enwere ulo akwukwo ana akpo "PILA" nke di na Baltimore Maryland ebe ana amugosi umu aka ndi Igbo amuru na obodo Oyibo etu esiri asu ma obu ede asusu Igbo. Anyi na ewere kwa nnukwu ekele bugara Ada anyi bu omalicha nwanyi aha ya bu Ada Kanayo Ntukogu bu onye bidolu nyabu ulo akwukwu ana akpo PILA. Okwekwara nkwa na oga enyere anyi aka were kwado nnukwu emume nke anyi na akwado na Baltimore na Coppin State University na onwa August ise rue isaa n'afo 2016. Ka chukw gozie ada oma Kanayo maka nnukwu olu ona alu ndi Igbo. Emume nkea ga akpu oku n'onu oga akpotu akpotu  no olu Igbo ka aga emekwa emume nke a mana anyi ga agba mbo ka anyi kpota ndi ga enye aka na akowa ihe ana ekwu no'lu oyibo ka ndi na enweghi ike inu ihe anakwu n'igbo ka ha ghota ihe ana ekwu n'olu bekee.
Igbo Association of Saskatchewan Canada (Umu oma Igbo ndi Igbo Association amuru na Saskatchewan Canada)
Ndi na akwado emume nkea bu otu oma ana akpo ICOTTH-USA no na Baltimore Maryland ha na Africa Business World no na Atlanta Ga. ICOTTH USA bu otu ndi echiri echichi ndi nze na ozo Igbo no na America. Otu ha na eneba anya na ihe gbasara omenala Ndigbo na USA. Ndi isi ICOTTH USA bu president Chief Stanley Onyedum, na ICOTTH USA president Emeritus oge gara aga bu Chief Hyacinth Nwachukwu na aru Ndigbo nnukwu oru oma ka omenala na asusu igbo ghara ina muo.  Biko nu ndi be anyi ka anyi nile wekota obi onu na ihe gbasara etu anyi nile ga esikwado asusu any bu Igbo. Unu nile ga echeta na ndi UNESCO kwuru si na asusu Igbo ga ala muo na afoo 2025. Mana anyi siri mbanu! na anyi agaghi ekwe ka ajo ihe nkea mee.Chukwu Onye Okike na anuru anyi bu ndi Igbo ogu agaghi ekwe ka asusu Igbo laa muo ma ncha. Onye asuru asusu Igbo ka ozaa n'olu Igbo.
Ndibeanyi ogwu nu ka akuko nke m taa ha. Ka Chukwu n'onyere unu nile mgbe ebighi ebi.
O bu Okechukwu P. Oranika dere akuko nke a
Igbo Language Preservation and Cultural Festival 2016
Venue: Coppin State University, Baltimore Maryland
Date: August 5-7th, 2016
For Sponsorship Information, please contact: 
Chief Stanley Onyedum, ICOTTH-USA President (443-983-3558)
Chief Laur Onyekwere,  ICOTTH-USA Chair, Festival Planning Committee (410-241-1360)
Chief Alex Ike Okeke, ICOTTH-USA Public Relations Director(443-845-0452)
Prof. Okechukwu P. Oranika, CEO, Africa Business World/Festival Event Coordinator) (770-401-5008)