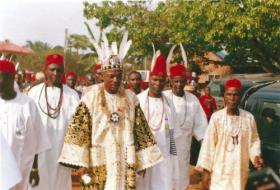 Theme:
Mbulite Asusu Igbo / Iri Ji Cultural Festival 2016
DATES:
August 5, 6, 7, and 2016.
VENUE:
Coppin State University, Baltimore, Maryland, USA.
FESTIVAL CONTACT PERSONS:
Chief Stanley Onyedum, ICOTTH-USA President (443-983-3558)
Chief Laur Onyekwere,  ICOTTH-USA Chair, Festival Planning Committee (410-241-1360)
Chief Alex Ike Okeke, ICOTTH-USA Public Relations Director (443-845-0452)
Chief Francis Ogbankwa, ICOTTH-USA, Director of Socials (202-568-5031)
Prof. Okechukwu P. Oranika, CEO, Africa Business World/Festival Event Coordinator) (770-401-5008)
 
BROCHURE ADVERTISEMENT: We are encouraging all our invitees to buy at least, a page advertisement to showcases them and or their businesses on this world class event brochure. Please contact the Committee Head responsible for brochure advertisement, Chief (Dr.) Raphael Oguariri or + 443-857-5587 to ensure that your advertisement, goodwill message and or family pose make on this Icotthusa collectible Festival Brochure.
Full Page: $100.00; Back Page: $300.00;
Half Page: $75.00; Center Pages: $150.00;
Inside Back/Front Pages: $150.00;
Click Here to Book for Brochure Advertisement
DONATIONS /SPONSORSHIP: Donations and or sponsorship to support our projects and community development initiatives can be made through our website. Brochure arrangement, donation, sponsorship to support our community development initiatives can be made through the Igbo Council of Traditional Title Holders USA (ICOTTHUSA) designated Agent(s) as listed below or through our website. Clik Here to Donate.
REGISTRATION: Registration to attend our ICOTTH-USA Igbo Language Preservation/ Iri Ji Cultural Festival 2016 can be done directly through the Igbo Council of Traditional Title Holders USA (ICOTTHUSA) website. Register Here. Attendees can also register on arrival at the event.
Single: $50.00;
Young Adult with Students ID: $20.00;
Couple: $100.00;
Children Under 12 years old: $10:00;
FESTIVAL PROJECT LAUNCHEON: Proceeds from our LAUNCHEON go to the preservation of the Igbo Language and Culture in the Diaspora and token to any group or NGOs where Igbo Arts, Language and culture are taught or promulgated. ICOTTHUSA is a charitable organization.
ACCOMMODATION/RESERVATIONS: The Hotels are:
Sheraton Baltimore North Hotel
903 Dulaney Valley Road, Towson, Maryland USA.
Rate $109 per night, plus applicable taxes at 21204
Phone; + 1410-321-7400, Fax; + 1410-296-9534,
Email: AP@sheratonbaltimorenorth.com.
++ Mention ICOTTH-USA to get the special rate at Sheraton Batlimore.
Embassy Suites by Hilton - Baltimore Inner Harbor & The Grand
222 St. Paul Place Baltimore, MD 21202
Rate $149 and self parking is $16 per day
Phone; +1443.524.1361, fax; +1 410.685.4216
Website: www.EmbassySuitesBaltimore.com & www.TheGrandBaltimore.com
Location:
Coppin State University, Baltimore, Maryland, USA