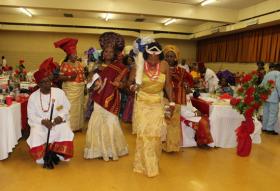 ICOTTH-USA) in Collaboration with Africa Business World                                                                  
Presents
ICOTTH-USA Igbo Language Preservation/ Iri Ji Cultural Festival 2016
The Igbo Council of Traditional Title Holders USA, Inc,( ICOTTH-USA)  in collaboration with Africa Business World (ABW) Presents ICOTTH-USA Igbo Language Preservation/Iri Ji  Cultural Festival 2016. We are launching this major International Igbo Cultural Festival beginning in 2016 in consideration of the growing global need and effort to champion the continuity of Igbo Language and Culture.
The goal of this three-day festival is to sustain Igbo language and support our Cultural Traditions for generations yet to come. This annual International Igbo Cultural festival would employ new methods in promoting Igbo language and Culture. This festival unlike other Diaspora Igbo Cultural events will be conducted totally in Igbo language.  Nevertheless, non-speakers of Igbo language will not be lost on the values of this occasion. We will provide English translators while keeping everyone entertained for the duration of the festivity.
 As part of this noble initiative, ICOTTH-USA will present its Annual Iri Ji Festival, a widespread Igbo cultural festival celebrated all across all communities in Alaigbo. Many other Igbo Cultural activities will be featured at this spectacular Igbo Cultural event including cultural dances, masquerades dances, men and women dance groups, workshops on ways to preserve Igbo language and culture, Igbo Agenda, Symposium and much more
This global Igbo Cultural event would be staged in Baltimore Maryland a few beats from the heart of the Nation's Capital Washington DC, targeting millions of Igbos and other guests and attendees from Maryland, Washington DC, Virginia, North Carolina, Pennsylvania, New Jersey and New York City and across the United States and the World. The centralized venue choice is easily accessible through the convenience of 5 international airports in Washington DC, Baltimore and Virginia.
Please mark your 2016 Event Calendar
Date of Event: August 5th-7th, 2016  
Venue: Coppin State University in Baltimore Maryland
Contact Persons:
Chief Stanley Onyedum, ICOTTH-USA President (443-983-3558)
Chief Laur Onyekwere,  ICOTTH-USA Chair, Festival Planning Committee (410-241-1360)
Chief Alex Ike Okeke, ICOTTH-USA Public Relations Director(443-845-0452)
Prof. Okechukwu P. Oranika, CEO, Africa Business World/Festival Event Coordinator) (770-401-5008)